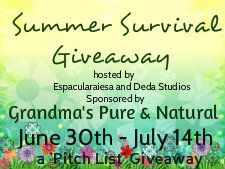 ~To check out my review of these soaps- Go HERE!
*Jewelweed grows wild in close proximity to poison ivy throughout much of the United States. For centuries native American peoples have used Jewelweed (Impatiens Capensis) as a natural preventative and treatment for the itch and rashes of poison ivy, oak and sumac. GRANDMA'S Poison Ivy & Oak Bar Relieves the itch of poison almost immediately and heals the rash in 3-4 days!
*GRANDMA'S Don't Bug Me Bar is a natural solution to an annoying little critter - the mosquito! Using a special formula of essential oils GRANDMA'S Don't Bug Me Bar repels mosquitoes effectively without the use of DEET or other chemicals. Pleasant smell. Won't stain clothing.
*Info provided by The Pitch List
Simply enter on the Rafflecopter below.
After you have finished, feel free to enter as many of the other The Pitch List Summer Survival Giveaways for Grandma's Pure and Natural Summer Survival Soaps!!!
You may enter as many as you want or just this one, but you may only win on one blog. We are going to compare winners after the giveaway is over!!
Good Luck to everyone! =)