Are you ready for another great giveaway?
~Coupons and Lesson Plans and a few great bloggers have come together to offer you the chance to win a Diamond Candle!!!!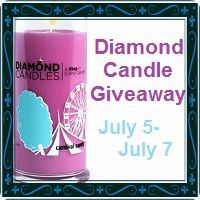 Check out the list of wonderful blogs below.
Diamond candles have swept the web, and are the next best thing since buttered bread. Each soy candle holds a hidden ring worth anywhere from $10-$5000. These smell absolutely amazing, and fill the room with a wonderful scent!!! Best of all, you get a wonderful surprise inside... Bling! =)
~There will be 2 winners so be sure to share with all your buddies. Giveaway will run from 7/5 at 8pm until 7/7 at 8pm EST and is open to US only.
~All entries are optional but the more you do the better your chances of winning.
Now what are you waiting for? Go enter now!!
Good Luck to everyone!!! =)
a Rafflecopter giveaway