*this post may contain affiliate links. see disclosure.

Would you like to know your risks for Cancer?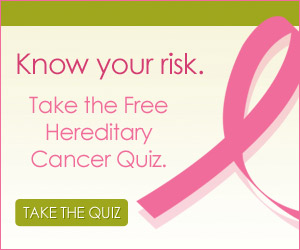 Breast Cancer Awareness Month is a great time to access you risks, and keep yourself informed.
Myriad Genetics' Hereditary Cancer Quiz helps you to assess whether you might be a good candidate for testing. With the cancer in my family history, I will definitely be taking this quiz to see my results
.
*As always, talk to your doctor about any health issues you may have. This quiz can help you get the information you need to discuss your risk of cancer with your healthcare provider and ask for further evaluation. If you take the quiz and find red flags in your own history or your family history, you may benefit from hereditary cancer testing.