*this post may contain affiliate links. see disclosure.
* this coupon is no longer available. :(
Has this crazy winter weather dried you skin out too?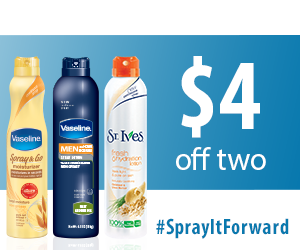 Oh my.... it's ridiculous how dry the air in our home is with the weather staying right around 10 degrees or below for days. All of us have been using lotion like it's our job.
That's why I am so happy to share this HIGH VALUE coupon with all of you. Just printed mine, and you can Save up to $4.00 off of two Vaseline or St. Ives spray lotions – Vaseline Spray & Go Moisturizer, Vaseline Men Spray Lotion, or St. Ives® Fresh Hydration Lotion.
*Go
HERE
to Receive one $2 off coupon for you and another $2.00 off coupon - up to $4.00 total - when you #SprayItForward and share with friends.
Happy Saving! =)