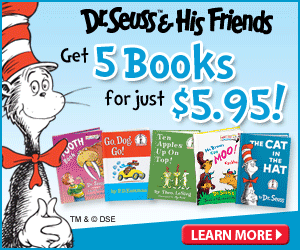 We love Dr.Seuss at our house!!! These stories just allow your kiddo's imagination to run wild. Isn't that one of the best parts of being young?

~Right now there is an awesome deal to get 5 Books for only $5.95 with FREE SHIPPING too!!!

Plus 2 Bonus Book Opportunities save 50%
Join Dr. Seuss & His Friends's today!
- Receive 3 new books each month

- Create lasting memories with the same classic stories you loved as a child

-Wacky and wonderful characters will engage & entertain your child and you Control your membership online
see disclosure