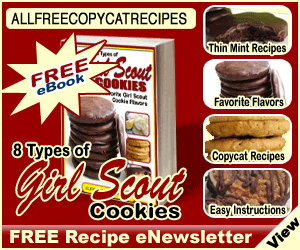 Do you love Girl Scout Cookies?
~Just the thought of Thin Mints makes my mouth water. Seriously

,

think I

enjoy eating

them too much.

O

nly allow myself to buy 2 boxes because, as much as I like to chow down on those tasty cookies, my budget can't handle more than that.
~Now I can make as many as I want to with th

ese

8 Copy Cat Girl Scout Cookie Recipes for FREE, and I just had to share it with all of you.
**Simply click the bann

er,

enter your email & grab your free recipes!
B

y the way, the Thin Mint recipe is on page 5!!! Yummy!!! =)
see disclosure