I love to bake! It's a lot easier to include the kiddos in all the fun, and we always enjoy the final product.... yummy desserts or breads! I'm not an expert baker, but found this great deal to give me tons of advice and tips..... plus FREEBIES too!!!
~Right now you can get in on this FREE introductory offer from Baked & Delicious Magazine!!!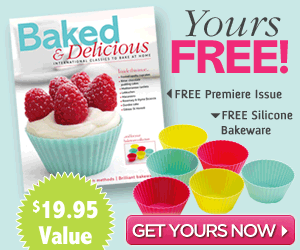 Enjoy $20 in FREEBIES!!
Premiere Issue of Baked & Delicious Magazine

6 Silicone Baking Cups INCLUDED

Dozens of original recipes, gorgeously illustrated step-by-steps and helpful tips from expert bakers
Grab this deal from Baked & Delicious now to start your own little bakery chefs off right!
*Please note this offer is NOT AVAILABLE in stores!!!
see disclosure